Tear It Up!: The Rockabilly Documentary, Produced & Directed by Greg Wolske. Lasso Productions ®
TEAR IT UP!: MINI-PROFILES
For more in-depth information about these famous Rockabillies & others, check out: http://www.rockabillyhall.com
JOHNNY CARROLL
In the mid-1950's Johnny formed a rockabilly band while in high school in Texas. After winning

several local talent contests he was signed to Decca Records. In April 1956, he was sent to Nashville to cut six songs including such rockabilly classics as "Wild, Wild Women", "Crazy Crazy Lovin'" and "Hot Rock". He toured on several of the big rock'n'roll package shows and headlined the 1957 cult classic film "Rock Baby Rock It". A popular act, Johnny has toured Europe almost annually since 1980. Mr. Carroll was interviewed for this film before he passed away in 1995.
WANDA JACKSON
Perhaps the greatest female singer of all time, Wanda can sing with a wild, rockabilly gut growling

howl better than most male singers of the genre. Her incredible rockabilly recordings from the fifties including, "Fujiyama Mama", "Mean, Mean Man", and "Let's Have a Party", are considered the cream of the rockabilly crop. At a loss to know what to do with a female rockabilly singer, Capitol records failed to properly market Wanda's records in the 1950's. It wasn't until 1960 that Wanda's "Let's Have a Party" was rediscovered and became a US top forty hit. Of course, by then the world had mellowed enough to accept a "female Elvis". In 1961, Wanda took up where her country roots had left off, and scored big with "Right or Wrong" and "In the Middle of A Heartache". Today, Wanda continues to perform her rockabilly and country hits all over the world. She has recently made numerous recordings and public appearances in Sweden, France, Germany, Switzerland, Czechoslovakia and Hungary. She also makes a periodic appearance on TNN's "Nashville Now".
DUANE EDDY
To say that Duane Eddy inspired a generation of rock guitarists is by no means an exaggeration; in

fact, it may be an understatement. His influence touched more than just lead guitar players and spread across several generations. As Who bassist John Entwistle once said, "Me first influence, and me last, was probably Duane Eddy." Duane Eddy's "twangy" guitar made him the number one rock'n'roll instrumentalist of all time. Duane had fifteen top 40 hits between 1958 and 1963. Early hits such as Ramrod, Rebel Rouser and Movin' n' Goovin' had a wild rockabilly feel combined with that legendary twangin' Gretsch guitar sound. A true pioneer, Duane Eddy expanded rock'n'rolls' horizons by taking the rockabilly sound a step (or perhaps several steps) further. The 1980's marked a big "come-back" for Duane. Thanks to the demand from millions of fans worldwide, Duane began performing again on a regular basis. In the mid-80's, he won a long overdue Grammy for his re-recording of "Peter Gunn" in conjunction with Art of Noise.
SLEEPY LABEEF
Sleepy has probably been on the road longer than any other rockabilly artist. He has performed for over 200 nights a year all

over the world, for more than thirty years! An exciting performer and an incredible guitar player, Sleepy has what seems to be an endless repertoire of thousands of songs memorized in his head. Not even Sleepy knows what songs he'll sing on any given night. Sleepy's band has to be prepared to follow his lead at all times. Sleepy's memory about the original rockabilly, southern blues and gospel days may be even better than his song memory. The man is a walking encyclopedia! A true one-of-a-kind original, Sleepy has continued and will, no doubt, continue to keep the rockabilly fire burning.
THE COLLINS KIDS
Larry and Lorrie Collins - The Collins Kids joined the regulars on the Los Angeles TV show, "Town Hall Party, aka, Ranch Party" in 1954 as a juvenile country act, when they were 10 and 13 years old. It soon became apparent that the brother/sister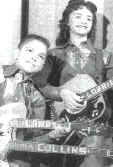 duo had a tremendous amount of musical talent. Larry was already mastering the guitar at an amzaing speed when he established a rapport with Ranch Party's house band guitarist, Joe Maphis. Larry proved to be an excellent student as Joe Maphis, an inventive and innovative guitarist, showed Larry his stuff. The two became great friends and went on to write and record several stunning guitar duets. Driven by new found guitar skills, Larry also created exciting, energetic Rockabilly and rock'n'roll with sister Lorrie. Existing Ranch Party film footage of Larry and Lorrie show some incredible performances, both musically and visually. With little knowledge of what the rest of the Country was doing (i.e., Elvis, Carl Perkins, etc.), The Collins Kids invented their own brand of Rockabilly that was as exciting to watch as it was to hear. Over the years, Larry continued to write and scored big when he co-wrote the international hit "Delta Dawn". In May 1993, Larry and Lorrie performed in England for the first time ever. Over three thousand screaming fans from all over Europe were treated to a highly successful and critically acclaimed performance.
RICKY NELSON
Though he has often been passed off as just another mass-marketed teen idol, Ricky Nelson made some first-rate Rockabilly

records. He idolized Carl Perkins, picked excellent material (including several tunes written by Johnny & Dorsey Burnette), and surrounded himself with a top-notch band that included James Burton on guitar and Joe Osbourn on bass. Prior to hooking up with Burton, Nelson employed Joe Maphis on his early hits, including "Boppin' the Blues", "Be Bop Baby", "Stood Up" and "Waitin' in School". Songs such as "It's Late", "Hello Mary Lou", "Shirley Lee", and "Believe What You Say" offer good examples of the James Burton guitar sound. Burton's guitar on Ricky's recordings came to be known as one of the most identifiable guitar sounds in popular music. As Ricky's popularity increased however, he soon was forced to abandon the Rockabilly sound he loved so much for a more pop, teen oriented sound. He never forgot his early influences, and in the early 1980's just prior to his tragic death, Rick returned to his roots and began regularly performing his Rockabilly hits. Rick's brother David agreed to be interviewed for "Tear It Up!", and he is very excited to see someone give Rick the credit and recognition he deserves for his early Rockabilly efforts and for the music he loved.
DAVE EDMUNDS

Originally from Cardiff, Wales, Dave has always been a leading exponent of the roots rock/rockabilly sound. In the early 1970's his first solo release in the States, "I Hear You Knockin'", hit number four and sold more than 3,000,000 copies. In the early 1980's Dave was instrumental in helping to shift the rockabilly revival into high gear by producing The Stray Cats' first three hit singles (including "Rock This Town") and other songs on their debut solo album.
DANNY GATTON
In 1989, Guitar Player magazine dubbed Danny Gatton as the "Greatest Unknown Guitarist In The World" . Born in 1945,

Danny is without a doubt, one of the greatest guitar geniuses that ever lived. He can play virtually any style guitar better than the masters who inspired him. Danny has very strong roots in rockabilly music and even though he plays many styles, it is one of his greatest loves. In the late 1970's Danny played guitar for rockabilly revivalist Robert Gordon. Gordon made several critically acclaimed rockabilly records that achieved mild success in the US during the disco era. Today, Danny continues his career as a professional musician. He recently released another in a line of genius instrumental albums and is planning more in the future. Mr. Gatton was interviewed for this film before his untimely death in 1994 at the age of 49.
DAVE ALVIN

In the early and mid-1980's, Dave Alvin and brother, Phil, rocked the charts and the airwaves with their highly successful and critically acclaimed group, The Blasters. A roots oriented band, The Blasters offered a mixture of rockabilly, blues and vintage rock'n'roll. In addition to his work for the Blasters, Dave has also written songs for other artists. He wrote several songs, including the theme song, for John Waters film "Cry Baby". Dave is also a highly successful producer. Recently, he produced an album for the legendary Sun recording artist, Sonny Burgess.