Tear It Up!: The Rockabilly Documentary, Produced & Directed by Greg Wolske. Lasso Productions ®. Paul Burlison Guitar Instructional Video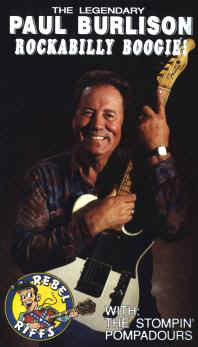 HEY PICKERS!
Order the Paul Burlison guitar instructional DVD below! Learn to play those legendary licks from Johnny Burnette & the Rock'n'Roll Trio!
In 1956, brothers Johnny and Dorsey Burnette and their friend Paul Burlison, recorded what has come to be regarded as the quintessential rockabilly sound. Know as the Rock'n'Roll Trio, their music captured a wild abandon that derived its roots from an exciting fusion of country music, swing and rhythm and blues. Guitarist Paul Burlsion contributed significantly with his unorthodox, frenzied and improvised style. Paul's innovative use of octaves and one of the first intentional uses of "fuzztone" (on the 1956 recording of "Train Kept A-Rollin'") are now legendary. Many musicians over the years have been greatly influenced by the original sound created by Paul's guitar, Dorsey's slap bass and Johnny's primal yelp. Cover versions have been released by groups such as the Yardbirds, featuring Jeff Beck, and Aerosmith.
In this exciting, first-ever, one hour tape, Paul demonstrates his favorite licks from numerous Rock'n'Roll Trio songs such as "Tear It Up", "Train Kept A-Rollin'" and "Lonesome Train (On A Lonesome Track)". Still quite the improvisor, he also shows you variations of those licks. You'll hear discussions about his early influences and the story behind his legendary amplifier sound, as well as, jammin' performances on various songs by Paul and the Stompin' Pompadours!
INCLUDES TABLULATURE BOOKLET! One hour running time. Beginner to pro level.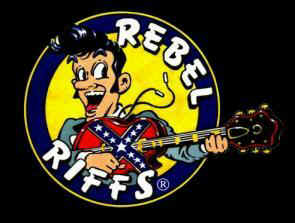 TO ORDER THIS DVD VIDEO:
USA orders only please!
$19.95 & $4.00 S&H ($23.95 total)
Ohio Residents add 6.75% sales tax
CREDIT CARDS ARE ACCEPTED AT THE
FOLLOWING PAYPAL LINK:
Produced & Directed by Greg Wolske
Executive Producers, Paul Burlison & Greg Wolske
Email: info@tearitup.com
Copyright

1990 - 2015 Lasso Productions ®